1788 has become a dirty word.
So in the lead up to Australia Day, T-shirts emblazoned with those four little numbers have been pulled from shops and outlets all over this nation. It doesn't matter that they signify the year in which the tiny settlement that eventually became Australia was established.
It's an embarrassing disgrace. Big W and Aldi should hang their corporate heads in shame for this stupid display of political correctness and historical revisionism.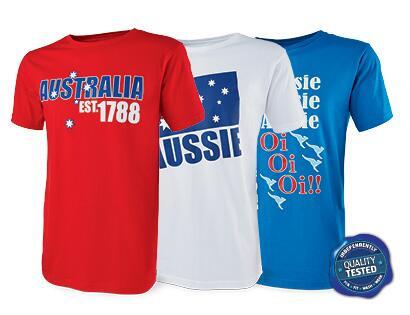 Apparently, these T-shirts are racist.
Any Grade 2 school kid should know that the First Fleet sailed into Sydney Harbour on January 26, 1788.
Consequently, it was the day that New South Wales was formally colonised (or established). That is historical fact.
It is also an historical fact that a little over 100 years later the Commonwealth of Australia was formed with the words:
"Whereas the people of New South Wales, Victoria, South Australia, Queensland, and Tasmania, humbly relying on the blessing of Almighty God, have agreed to unite in one indissoluble Federal Commonwealth under the Crown of the United Kingdom of Great Britain and Ireland, and under the Constitution hereby established".
Without the First Fleet, Australia would not be the prosperous, civilised nation it is today. Nor would it be one of the few nations in the world that recognise Almighty God in its constitution. So we can all be thankful for the efforts of those in the First Fleet. In establishing themselves Down Under, they endured hardships far beyond anything we even remotely experience today.
Sure, I grant that if those 1,400 odd English and Irish sailors, marines and convicts who tootled south over the oceans and into Sydney Harbour had not done so some other European nation would have settled this part of the world. Maybe we could be French. Or Dutch. But we aren't.
And looking at how the French and Dutch colonies developed, I'm sure we are all thankful that possibility did not occur.
What is certain is that Australia would not have remained an uncivilised island. And it was uncivilised.
I remember very well the day I sat in a lecture theatre at the Australian Defence Force Academy in 2000 listening to my lecturer, Gerald Walsh. He was giving the first class in the Australian Colonial History course.
Gerald was an old bloke and a fantastic teacher. What he didn't know about Australian history wasn't worth knowing.
He also had inspiring courage. This was obvious when he taught us that the Aboriginal inhabitants at the time of settlement had no civilisation. It was true, but it's just not the kind of thing you are allowed to say in a university.
But Gerald's argument was based on reality. Civilisation is not just a word that you can label anything with if it is to have meaning. It's based on objective facts. There is no civilisation without written, codified laws and permanent settlements and structures.
None of these were present on this continent on 25 January, 1788. They were established the very next day.
The Aboriginal peoples have their own culture. And they should be proud of their heritage, just like the rest of us. But there was no civilisation on the Australian continent until the English made it happen.
As a result, every Aboriginal in Australia today lives in better circumstances than their forebears did 250 years ago. Whether they like that or not is entirely up to them. But the angry, vocal minority of Aboriginals who live perpetual fantasies of victimisation are just ungrateful. That's the truth.
And this is another truth. I am as Australian as they are. Every one of us born here has a link with this land.
Unfortunately, the victim mentality is only spurred on by drongos like the Former Race Discrimination Commissioner with the very Anglo-Saxon sounding Christian name, Tom Calma.
Only a drongo would say this about Australia Day T-Shirts with "Established 1788" emblazoned proudly upon them:
"What we can say is that it is not accurate, is bad taste and does not in itself lead to an understanding of Australia's history and heritage.
''In the lead-up to Australia Day it is important that we educate the community, the nation and the international community about what Australia Day celebrates.''
If Tom ever re-reads his words, I hope they make him feel stupid. Because they should.
For Mr Calma's benefit, Australia Day celebrates many things about this great nation. But one of the most readily apparent things it celebrates is the arrival of the First Fleet on 26 January, 1788 and the establishment of the colony that eventually became Australia. In fact, for those in the Australian and international community who are unaware (and Mr Calma obviously fits into this category) January 26 was designated as 'Australia Day' specifically to recognise this historical fact.
I'm happy to educate him on this little bit of trivia so that he doesn't make any more silly statements that are not accurate, in bad taste and that lead to a misunderstanding of Australia's history and heritage.
Unfortunately, I doubt Mr Calma and his pathetic, hand-wringing leftie mates will let facts get in the way of a sob-story. So he'll keep on whinging about things like T-Shirts with 1788 on them, even as he takes advantage of a life given to him by those who suffered to make it possible.
But I'll say this: I'm proud to recognise those who established civilisation here in 1788.